All Interpex Software is copy protected in some way.
Shareware is protected by user name and registration code or by CPU program code and access key:
The user name must be at least 11 characters long. It should not be too long as it will appear on all screens and on all hard copy. User name must be your own name or your company name and may include a crew or division number. Do not make up a name. Blanks can be imbedded in the user name and count as characters. Examples of valid names might be "GeoSurveys International", "John D. Smith", "Mozambique Dept of Water and Environment".
Some software is also protected in some cases by CPU program code and access key. This is mostly used for free licenses issued for student computer labs at universities:
The 10-character program code is generated from the computer's serial number, which is a unique signature, and the access key is provided by Interpex to unlock the software on that particular computer. This method is useful for situations where several individuals have access to the computer, for instance in a student computer lab.
Software is generally protected by a hardware key, which can be provided either as a USB key or a parallel port key. The USB keys are currently the most popular: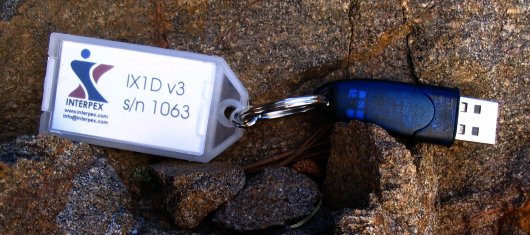 Previously supplied DOS software used a parallel key from Az-Tech, which did not require any drivers. These keys now require a driver if the software is installed and run under Windows XP. Currently supplied DOS and most windows software use the new Az-Tech "Rockey", which comes either as parallel or USB.
To install a driver for the USB or parallel port Rockey, please see Installing Az-Tech Rockeys in Windows XP